Early life
Rural Southern Illinois born and raised, All-American entrepreneur Kent Emmons began his business like many other Midwestern kids with a lemonade stand as a youngster then began mowing yards at 10 years old – growing his business to 25 yards a week all the way through middle school and high school. Kent always prided himself on his work – never once losing a customer. Then, what started as a side business during his high school years ended up helping chart the course of his lifelong career in the media and entertainment business. At the age of 14, Emmons began promoting poolside dances at the local swimming pool's recreation hall. "I would hire a band for $50, charge people $2 to get in, go on the local radio station and promote it and hoped that at least 25 people showed up! They always did."
Leadership and politics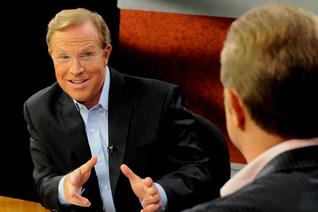 In addition to being an active member and officer of his church youth group throughout high school, Kent was very active in student leadership, having been class president for several years, local student council president then went on to be elected to serve as the President of the Illinois Association of Student Councils, Chairman of the State Student Council President's National Leadership Committee, was an active member of the Illinois State Board of Education's Student Advisory Committee under Gov. Jim Thompson as well as serving as a Senior delegate at the International Student Leadership Program in Europe. Being raised the son of a hometown bank president in a conservative pro-business family, Emmons learned early on the importance of limited government and free markets. As a kid, he campaigned door to door for local leaders that he believed in and throughout his high school years became a very familiar face at the Illinois State Capital having served as the youngest legislative aid at the time to serve in the Illinois House of Representatives under State Rep. Clyde Robbins. Emmons served as the Chairman of the Wabash County Young Republicans for 3 terms as well as a republican precinct committeeman at the age of 19 during the Reagan years. As a young adult, he continued in the entertainment and media business and co-founded Atlanta based artist management and music publishing company Atlantis Entertainment with music legend Bill Lowery.
Emmons is credited with signing top 10 talent and music rights. Through his contacts in the entertainment industry, Emmons began acquiring radio stations and developing radio networks specializing in highly profitable 24/7 niche formats including the "Vacation Station" format in top tourist markets around the country and the first 24/7 all comedy/all the time radio networks (Comedy World, All Comedy Radio and National Lampoon Comedy Radio).
The Accidental Infomercial Guy
Owning radio stations and networks over the years, Emmons discovered early on that there were big bucks to be made by running spots for products that sold directly to consumers. By having a good eye to spot products that would sell well, he started dedicating a substantial portion of his media outlet's ad inventory to direct response that easily carried over to television. Emmons founded Kent Direct, Inc., an international direct response television and digital firm that, along with its affiliates, has generated several billion dollars in sales over the years. In 2018, Kent, along with some like minded friends from all across the business spectrum, saw a massive hole in the media market. News, on both sides of the fence was not only broken, but the big networks were totally ignoring the 18-49 year old crowd, which is also the most profitable media demographic. Recognizing a very clearly wide open and very profitable hole in the media space, Kent and his posse formed Crave News, a very edgy, hip, live interactive digital news network. Crave News is set to launch in late 2021.